when folks hear about st. mary, there can be a stereotypical image that comes to mind. as catholics, a primary image of mary can be one that shows her having a docile expression. a powerless mary can lead to a docile discipleship of jesus. images shape our faith.
as claretian missionaries we often highlight other expressions of mary. i especially like seeing artwork of mary as a strong follower of jesus. this is the mary who represents the powerful words of the magnificat:
"(God) has shown might with his arm, dispersed the arrogant of mind and heart. He has thrown down the rulers from their thrones but lifted up the lowly. The hungry he has filled with good things; the rich he has sent away empty" luke 1: 51-53
mary of the magificat is seen in artwork too. for example, most people have not seen this image:
in the picture, mary is strong in the midst of chaos. she securely carries jesus the vulnerable in her arms. the source of her strength resides in her immaculate heart. mary stands over evil and ushers in God's peace. hope springs forward with new life.
this image is quite different from: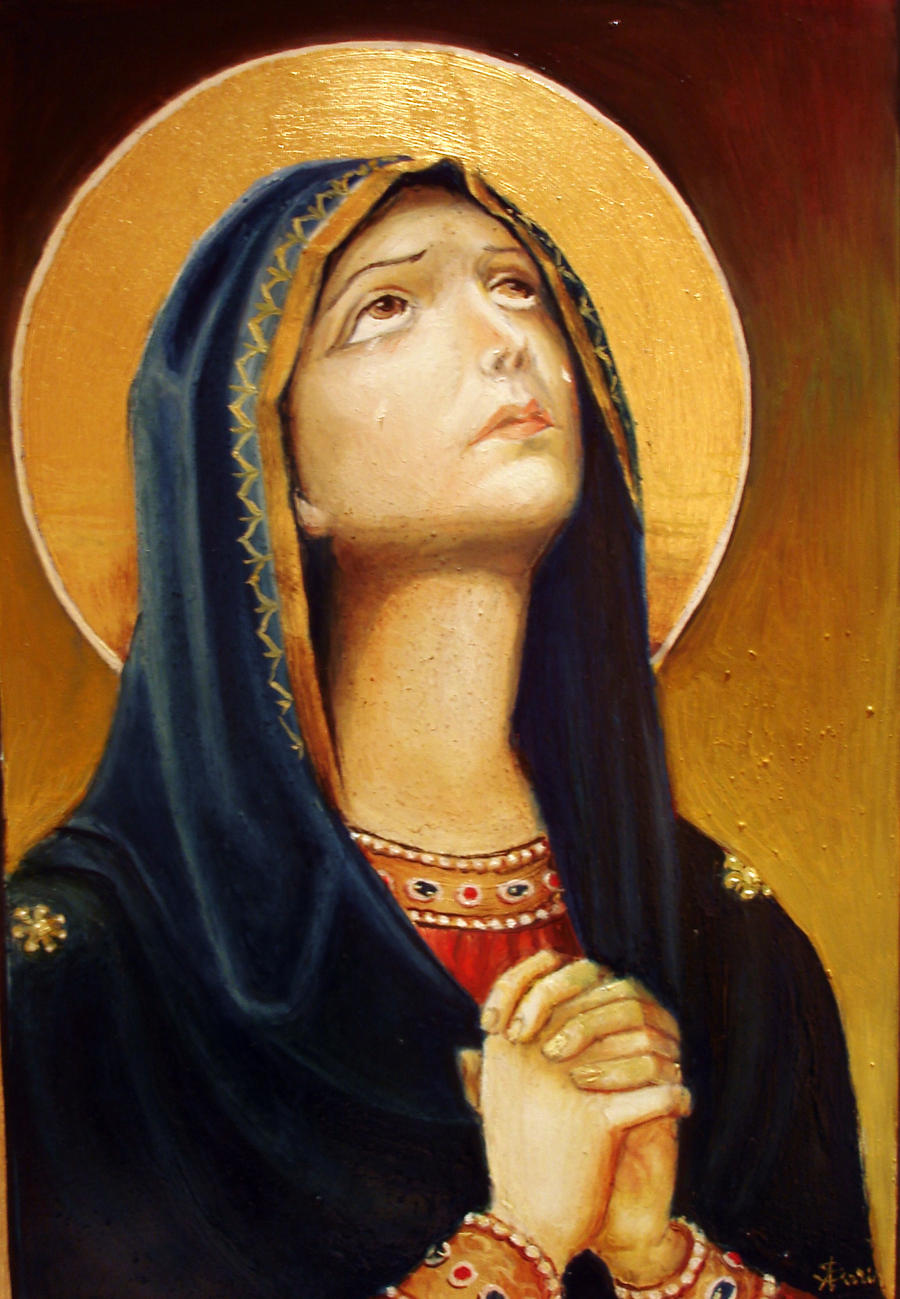 there is a place for a sorrowful mary prayerfully pleading with God for consolation too. our hearts need healing and mary's trusting image resonates with various life experiences too. this takes a different type of strength.
but mary of the magificat shows us a audacious strength. pope francis writes about the mother of jesus named mary:
mary is the primary missionary. she shows us that hope can be born from our pain. mary walks with us in our journey of life and faith. she enters uniquely into a shared history and becomes part of that historical identity.
how else can mary be beloved across the globe and in countless cultures?
mary is a sign of hope who comes to those who are "suffering the birth pangs of justice." francis offers a wonderfully poetic image of what is happening in our world. as we see renewed efforts to address the sins of humanity– especially against people living in poverty– we, as people of faith, await something different and new in our world.
martin luther king jr was part of these pangs of birth when he said:
"A true revolution of values will soon cause us to question the fairness and justice of many of our past and present policies. … A true revolution of values will soon look uneasily on the glaring contrast of poverty and wealth. With righteous indignation, it will look across the seas and see individual capitalists of the West investing huge sums of money in Asia, Africa, and South America, only to take the profits out with no concern for the social betterment of the countries, and say, "This is not just." It will look at our alliance with the landed gentry of South America and say, "This is not just." The Western arrogance of feeling that it has everything to teach others and nothing to learn from them is not just."
as God's justice continues to come to birth in our world, we need the Spirit's lead and guidance. part of these graces come through the queen of all saints. may her intercession inspire us to be courageous followers of jesus and inspire hope in the world we live in.
let us pray:
Mary, you who gave birth to your Holy Child in the poverty of a stable, guide us to be sensitive to all those who struggle against the indignities of poverty. May we engage our hearts and minds fully to learn more about those in poverty and to be moved to respond to their plight.
(from https://educationforjustice.org/wp-content/media/2018/01/MarianMayPrayers.pdf )