how is partiality a sin? in the broad sense, sin is what frustrates our ability to love one another which impacts our love of God.
here are some scriptural thoughts on partiality from the letter of james chapter 2, verses 1-5:
My brothers and sisters, show no partiality
as you adhere to the faith in our glorious Lord Jesus Christ.
For if a man with gold rings and fine clothes
comes into your assembly,
and a poor person in shabby clothes also comes in,
and you pay attention to the one wearing the fine clothes
and say, "Sit here, please, "
while you say to the poor one, "Stand there, " or "Sit at my feet, "
have you not made distinctions among yourselves
and become judges with evil designs?
Listen, my beloved brothers and sisters.
Did not God choose those who are poor in the world
to be rich in faith and heirs of the kingdom
that he promised to those who love him?
perhaps a lens to look at this teaching is in the verse, "… distinctions among yourselves and (you) become judges with evil designs." to see one another primarily with human eyes and human definitions would lead to distinguishing the differences among us. in this scripture, the example is the treatment of a rich person and a poor person. they are treated differently– the poor person was not treated with respect.
the second part of this key verse is that this unequal treatment leads to us becoming judges with evil designs. we do not even realize that evil designs are crafted when we become judges of the rich and poor. God is the ultimate judge.
and how does God judge? one aspect is that it comes through a special calling in the rhetorical question in james: the poor of this world have a special place to be rich in faith and heirs of the kingdom. why? because of their love for God.
one aspect of this dynamic is that people who are poor have to rely on others to survive. when there is no where else to turn or no one else is listening to them, they know that God does. they can trust that God will provide for them in their difficulties of life.
the opposite dynamic can happen with people who are rich. with their resources, they can make things happen and do not have to rely on others: they rely primarily on themselves. God can have a secondary, tertiary– or even no– place in how the rich live their lives. rich people can trust only in themselves.
by extension, racism and bigotry can be examined through this lens of impartiality. we know that our world has a ways to go with our partial judgements.
let us pray:
God of Justice,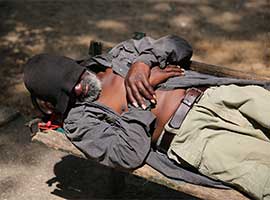 open our eyes
to see you in the face of the poor.
Open our ears
to hear you in the cries of the exploited.
Open our mouths
to defend you in the public squares
as well as in private deeds.
Remind us that what we do
to the least ones,
we do to you. Amen